Alloy wheel powder coating is a technique that is continuously increasing in popularity and is often chosen over the traditional paint and lacquer method.
The vast array of colours and finishing options appeal to car enthusiasts that favour bold, colourful aesthetics for their vehicles and want to be precise with their customisation.
What is alloy wheel powder coating?
Powder coating is a popular alloy wheel customisation technique that allows people to modify their vehicles aesthetics through painting alloys in practically any colour desired and finishing them with matte, gloss or shine effects.
This decorative finish is sprayed on and set using heat treatment, allowing the wheel to be coated with a gel-like surface. Powder coating spray comes in endless combinations of colours, designs and finishes, making this modification technique extremely appealing to those with vibrant vehicles.
How are alloy wheels powder cut?
Alloy wheel powder coating needs to be done by a professional with access to the right equipment and materials. The process, in a simplified form, goes as follows:
The wheels are firstly removed from the vehicle
The alloys are then cleaned and prepped
Alloys are then either acid stripped, sandblasted or bead blasted back to the bare metal to provide a smooth base for the powder coating
The alloy wheels are then heated to extremely high temperatures
Using specialist equipment, the alloys are sprayed with the powder coating and the whole surface is covered
The alloys are heated again to allow the powder to set in a gel-like consistency over the surface
Finally, the alloys are lacquered and heat treated a final time to ensure that the finish is set and smooth
Use our search bar below to find professional alloy wheel powder coating services nearest to you:
Advantages of powder coating alloy wheels
Powder coating isn't for everyone, but it does offer great benefits to those looking for a smooth, clean customisation option.
Can be applied to all alloysAlloy wheel powder coating can be applied to steel, stainless steel and aluminium alloy wheels, so you can benefit from modification no matter what.
Large range of customisation optionsPowder coating comes in many forms. Practically any colour can be chosen, effects such as speckling can be done and you can choose to have a matte or glossy finish.
The finish is durablePowder coating is generally thicker and more hard-wearing than other customisation finishes, allowing you to keep your alloys (and new alloy pattern) well protected. Powder coating is also non-porous, meaning that it won't allow water to penetrate the surface and bubble the finish like some paints would.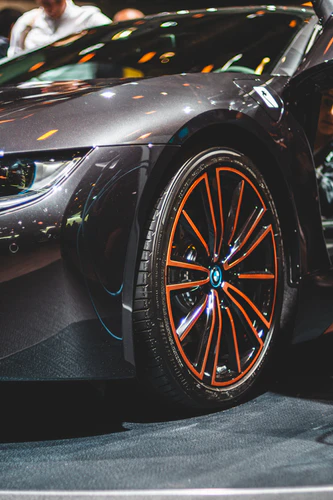 Where can I get alloy wheel powder coating done?
We have local experts available that have access to professional and heavy-duty equipment in order to successfully and efficiently powder coat alloy wheels. We can cover most areas in the North West and within the UK, including:
Bolton
Bury
Chorley
Preston
Blackburn
Our search bar below can help you to find your nearest refurbishment centre and fill out a booking request form:
FAQs about alloy wheel powder coating
Does powder coating damage alloy wheels?
Powder coating doesn't typically damage alloys. When the process is performed safely, with the right equipment and by an experienced professional, there should be no issues.
Some people worry that powder coating alloys can weaken them. There is a small chance that this could happen, but only if the alloys are overheated in the process, making them susceptible to bending and losing structural shape and integrity.
Our engineers will ensure that overheating doesn't happen.
How long does powder coating last on alloy wheels?
Powder coating can actually last between 15 and 20 years! The longevity of powder coated alloys does depend on a few factors though. If the correct equipment and high quality materials were used, you are likely to experience a long lasting finish.
Of course, adverse weather conditions, poor road surfaces and exposure to corrosive cleaning chemicals can damage the coating. If you keep powder coated alloy wheels clean and lacquered, they should last a long time.
How much does alloy wheel powder coating cost?
Get in touch with your local expert to find out what the cost of alloy wheel powder coating would be. You'll need to factor in the current state of your alloys – if the alloys have some existing damage, this may require alloy wheel repair before any modifications can be made.
We aim to provide you with the most competitive prices for alloy wheel customisation and modification – simply search for your local garage below and get booked in.